Lakme 9 To 5 Weightless Mousse Foundation Review
December 6, 2019
If you like wearing foundation on a daily basis and are on the hunt for a weightless formula to help conceal your imperfections – your search ends here! I tried the Lakme 9 to 5 Weightless Mousse Foundation, and I was so impressed with how natural it looked on my skin. I have a detailed review of this foundation, so keep reading to find out what it does and whether or not this product is something that will work for you.
A beautiful base is what we all aim for while doing our makeup, so let me help you decide how this foundation fares – here's a breakdown of every aspect of this product.
Lakme 9 to 5 Weightless Mousse Foundation Review
Lakme claims that the 9 to 5 Weightless Mousse Foundation is the answer to a working woman's barrier to using foundation. It's so lightweight that you won't even feel like you are wearing anything. Its new formula feels soft and blends effortlessly into the skin to conceal imperfections with a matte finish that stays through the day. It gives you complete coverage, and its pocket-sized tube is easy to carry around. This foundation is suitable for every skin type.
Features And Benefits
Lightweight formula
Blends easily
Leaves you with a matte finish
Desired coverage for daily use
Evens out skin tone and covers redness
Conceals minor flaws and imperfections
Does not clog pores
Appropriate for work wear
Long staying
Available in four shades
Suitable for all skin types
Packaging
The Lakme Weightless Mousse Foundation comes in an inverted slender tube with a rose gold cap. The body is also rose gold in color, similar to the typical 9 to 5 range. The name of the shade is mentioned on the outer paper carton and on the tube as well. The slim, handy tube is also convenient to carry around in your makeup pouch. It does not spill or leak, making it very travel-friendly.
Lakme 9 to 5 Weightless Mousse Foundation Shades
This Lakme foundation comes in four shades. Due to its limited shade options, it's quite difficult to find an exact match for every skin tone. If you are someone with a fair to medium skin tone, one of these four shades will make a good match, but for those of you with darker skin tones, these shades won't do the matching job well.
01 Rose Ivory
" class="imgshare_buttons">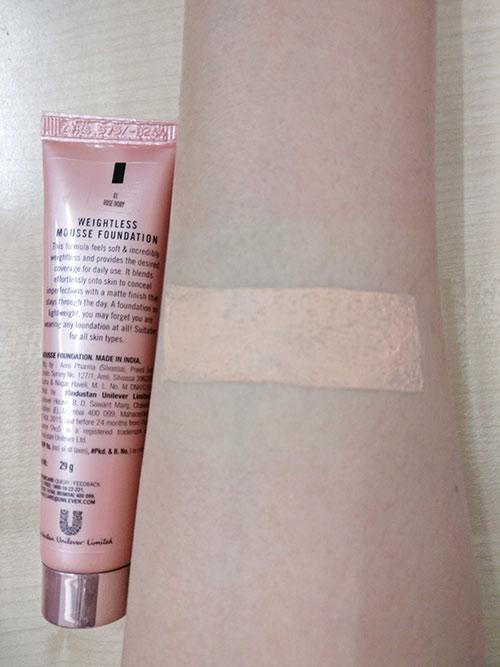 This shade is perfect for fair skin tones with slightly pink undertones.

02 Beige Vanilla
" class="imgshare_buttons">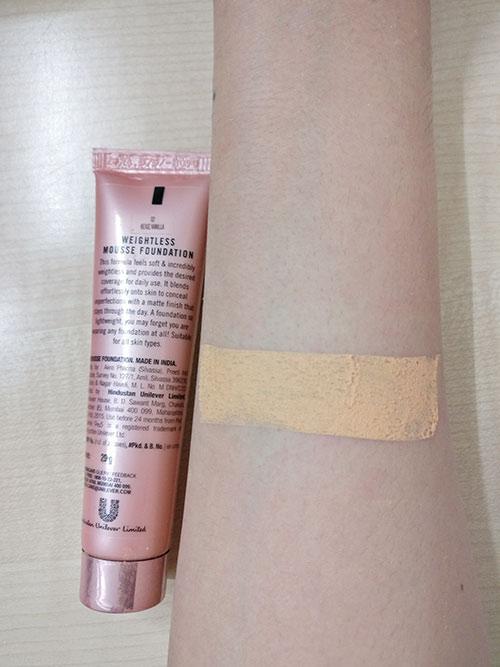 This shade will work well for fair to medium skin tones with yellow undertones

03 Beige Caramel
" class="imgshare_buttons">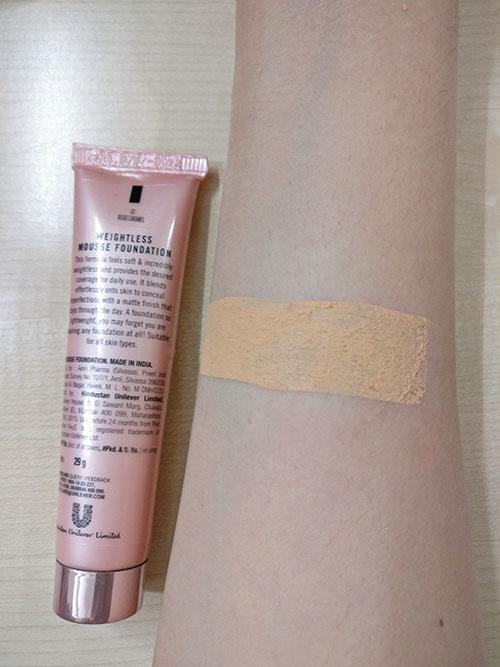 Beige Caramel will suit medium skin tones. This shade is ideal for the average Indian skin tone.

04 Rose Honey
" class="imgshare_buttons">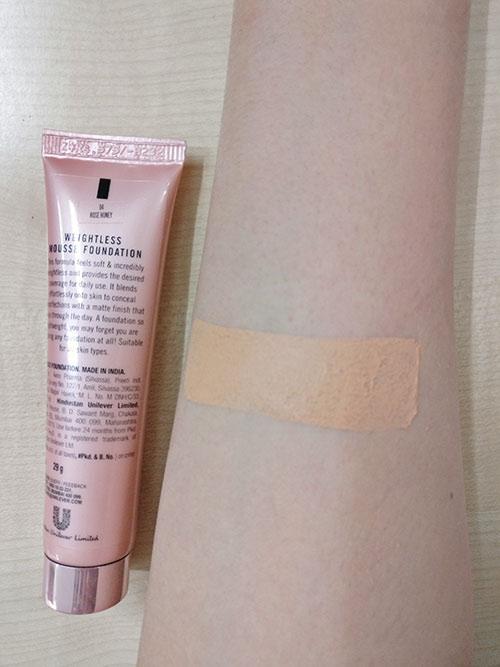 Rose Honey is great for fair to medium skin tones with pink undertones.

*Subject to Availability
My Experience With Lakme 9 to 5 Weightless Mousse Foundation
I bought this foundation in the shade 'Beige Vanilla' for my fair skin tone with yellow undertones, and it was the perfect fit. Lakme has done a rather great job with its formula, and as per claims it indeed is really lightweight and does not look cakey on the skin. Here's my experience with this foundation.
Texture And Fragrance:
The Lakme 9 to 5 Weightless Mousse Foundation has a super light, silky smooth, moussey texture that spreads effortlessly on the skin. It's best applied with your fingers, according to what Lakme suggests. I blended it out using a makeup sponge, and the finish looked gorgeous and was way easier. Its fragrance has a very 'artificial makeup' smell. However, it isn't very strong and fades after some time.
Coverage And Efficacy:
The coverage of this foundation is rather sheer to light – it's perfect for daily use as it looks extremely natural and nothing too over the top. If you are blessed with healthy skin with minor flaws – this works well to even out imperfections and leaves you with a fresh-looking face all day long. However, if you have dark circles, blemishes, and acne scars – you will need to go in with a concealer to get the desired coverage.
I found that the Lakme 9 to 5 Weightless Mousse Foundation controls oil and shine on my T-zone and leaves my complexion looking brighter and fresher. Its matte formula is completely non-drying, so if you have dry skin, fret not. I like how this foundation feels on my skin – it does not feel heavy or cakey on my skin like most foundations tend to do.
Another factor that I absolutely loved about this foundation was that it did not highlight any dry patches or settle into my pores. It just blurred the pores out, altogether minimizing their appearance. It's quite versatile and is indeed made for all skin types – be it normal, oily, dry or combination – it just does a good job for every skin type.
If you want more coverage, you can build it up with a second layer as this will work, but make sure you don't go overboard as this will leave you with a powdery, ashy finish that no one wants.
All in all, this foundation is one that can be realistically worn on an everyday basis, even to work without worrying about the "side effects" of using a foundation on such a regular basis due to its lightweight and moussey texture. I have sensitive skin, and this did not break my skin out or cause any kind of issues on my skin. It also makes for a great summer foundation, and you do not have to be anxious about its formula melting and making your base look like an utter mess.
Staying Power:
The Lakme 9 to 5 Weightless Mousse Foundation stays on for a good 5-6 hours with only minor fading. You can extend its staying power by using a primer underneath the foundation and also by using a compact to set it. Although it's not waterproof, it is water-resistant to a certain extent and can survive light splashes of water and rain without running down your face.
Pros
Leaves your skin looking fresh and bright
Non-oily formula
Gives your skin a velvety, matte finish
Feels extremely light on the skin
Won't clog pores or cause breakouts
Does not make your base look cakey
Blurs and minimizes the appearance of large pores
Simple and travel-friendly packaging
Narrow opening of the tube only allows the required amount to come out
Affordable
Cons
No ingredient list mentioned
Limited shade options
No SPF
Sheer coverage won't conceal very dark spots and dark circles
How To Use This Product?
Step 1: Apply the foundation to clean and moisturized skin
Step 2: Take a small amount of the product with your index finger, dab it onto your skin and start applying this onto your skin using your fingertips.
Step 3: Blend the formula into your skin starting from the center of the face and moving outwards, taking care to cover your entire face, including your neck.
Shelf Life: Two years
Will I Recommend This Product?
Yes, I would recommend 9 to 5 Weightless Mousse Foundation by Lakme especially to those of you who want a foundation for daily wear. If you have decent skin with very minor flaws and issues, this is a great product to give your skin much-desired perfection. It will even out your skin tone and cover redness, but it won't magically transform or conceal pesky dark spots or blemishes (for that you will need concealer).
Also, I've been wearing this to work, and it's really easy to use and is a very" low-maintenance foundation>, which makes it an ideal choice for beginners.
All in all, I love the Lakme 9 to 5 Weightless Mousse Foundation – especially when I like to go for the "no-makeup" makeup look. It's very budget friendly, and a little bit of the formula goes a long way, so the tube will last you forever. The only problem I perhaps have with this product is how Lakme conveniently did not mention the ingredient list on its packaging, which is a major deal to me. Besides that, this is one of the better drugstore foundations in the Indian market. Have you ever used the Weightless Mousse Foundation? If so, tell me about your experience in the comments section below.
Recommended Articles
Related
The following two tabs change content below.
Esha Saxena is a writer, journalist, and a full-time wallflower. She holds a Master's degree in Media and Mass Communication and firmly believes that makeup is nothing less than art. Combining her love for writing with her passion for makeup, she brings to you reviews, techniques, and her ever-growing knowledge on this form of art. In her spare time, she loves reading, listening to obscure indie bands, and writing poetry – all of this while being a crazy dog lady.